The title of this project is a references and a tribute to Spike Lee's commercials for Nike's Air Jordan where Michael Jordan, the absolute icon, plays his own role.
It is also a tribute to the title Chief Rocka by Lords of the Underground.
For this photographic project, I asked sneakers lovers to pose with their favorite pair.
During the shooting, I've been chatting with them, to make them feel more comfortable and to learn more about their love for these shoes.
At the end of the interview, I broached the subject of fetishism.
If the majority of them never thought about it, they admit that their passion can sometimes seem out of the ordinary. And if we define the fetishism as a cult towards something, all of them recognize themselves in this, at least a little bit.
It's this tiny border, which in my opinion exists between the collector and the fetishist, that I decided to explore.
Each of us has a special relationship to sneakers, whether we are indifferent, fetishist, collector, sportsman or fashion lover.
An even more particular practice in the midst of sneakerheads, but not only, is the selfeet (self portrait limited to the bottom of the pants and shoes). This inspired me a series of 50 photographies. If you take a closer look, you'll realize that these are not not self-portraits since we can see the hands of the protagonists. Posture and body language then reveal the personality of each one. We can perceive several levels of interpretations: a collector will probably notice a model that he does not have, a fetishist will be disturbed by this particular model and others will just see a pair of shoes...
In parallel to the creation of the selfeet portraits, you can also discover another series dedicated to the faces of some of my models as they show me their favorite pair of sneakers. The way they look is close to childhood or even bliss. A visible happiness that we want to share with them.
exhibited at Crédit municipal de la ville de Paris, Paris, France, October 29, 2015 > January 13, 2016
exhibited at Galerie LSB, Montreal, Canada, August 6 > September 30, 2015
exhibited at La Médiatine, Brussels, Belgium, March 28 > June 2, 2015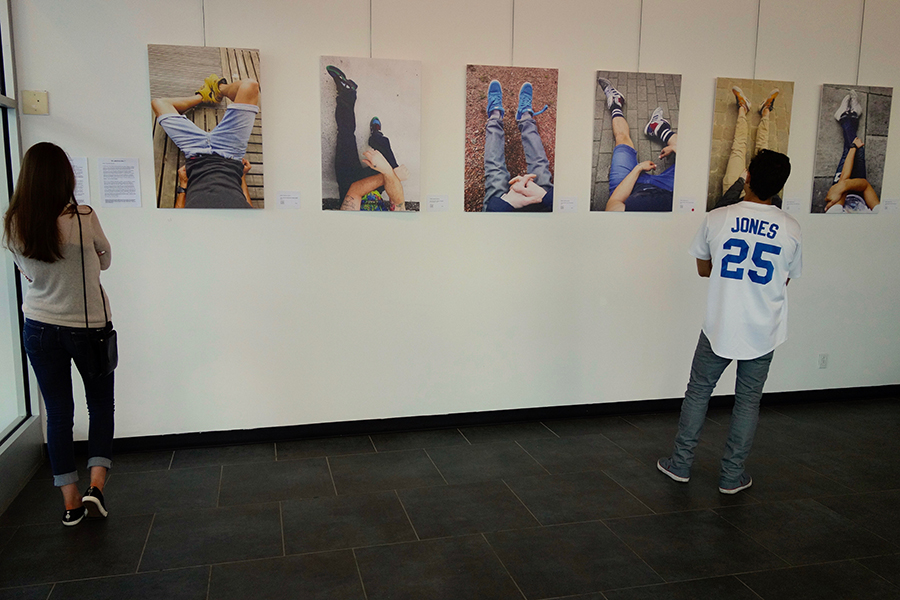 Click on the pic below to enlarge this part of the project.
Below, check out "KICKS" from Andrew Burnett
a documentary about "It's gotta be da shoes!" project.