I wish I was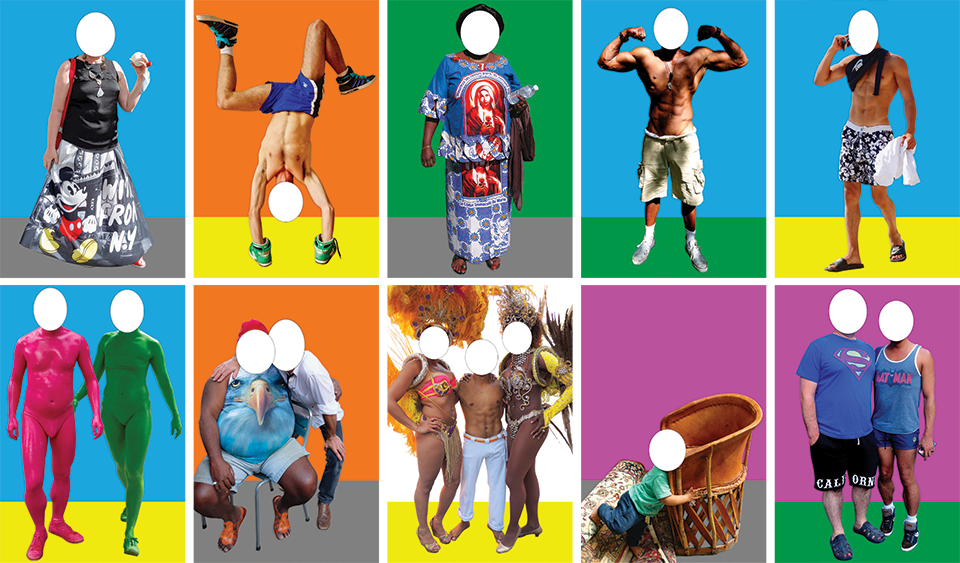 Today everyone has a camera thanks to the widespread use of smartphones. We love posting on social networks the last memories of activities in which we participated. These same social networks have gradually distorted people's view of physical appearance and life goals. It is therefore in a rather ironic but above all playful way that I decided to reinterpret the pass-head, this illustrated panel in which you put your head to pretend to be someone else. Here, the illustrations presented are photos taken by me that I laid out with fairly pop and attractive colors. Under the name "I wish I was", several choices are presented to passers-by: to become muscular or a stylish woman, to think of oneself as an acrobat, to have green skin or red, etc.
This "classic" attraction speaks to everyone. It always generates hours of fun with many photos. These will then be shared on social networks and the loop will then be looped. Well, it will definitely looped if passersby's play along by posting the hashtag #iwishiwas and linking to my Instagram page @p_i_i_i_t.

Installed for Staycation Festival in Ixelles, Brussels Belgium, from July 10 till August 28 2022

Aujourd'hui tout le monde a un appareil photo grâce à l'utilisation très répandue des smartphones. On adore poster sur les réseaux sociaux les derniers souvenirs d'activités auxquelles nous avons participé. Ces mêmes réseaux sociaux ont progressivement déformé la vision que les gens peuvent avoir de l'apparence physique et des objectifs de vie. C'est donc de manière assez ironique mais avant tout ludique que j'ai décidé de réinterpréter le passe-tête, ce panneau illustré dans lequel on met sa tête pour faire semblant d'être quelqu'un d'autre. Ici, les illustrations présentées sont des photos prises par mes soins que j'ai mises en page avec des couleurs assez pop et attractives. Sous l'appellation "I wish I was", que l'on pourrait traduire par "J'aurais voulu être", plusieurs choix se présentent aux passants: devenir musclé ou une femme stylée, se prendre pour un acrobate, avoir la peau verte ou rouge, etc…
Cette attraction "classique" parle à tout le monde. Elle génère toujours des heures d'amusement et de nombreuses photos. Celles-ci seront ensuite partagées sur les réseaux sociaux et la boucle sera alors bouclée. Elle le sera d'ailleurs définitivement si les passants jouent le jeu en publiant le hashtag #iwishiwas et en indiquant le lien vers ma page Instagram @p_i_i_i_t.


Installé dans le cadre du Festival Staycation à Ixelles, Bruxelles, Belgique, du 10 juillet au 28 août 2022